It's not possible to overestimate the value of flash in the general scheme of things for walleyes, and that's why, when chasing walleye, spinner jigs are often the rig of choice. The leadhead jig, the classic of walleye baits, usually gains with the inclusion of a spinner blade. Occasionally, all of the blade's attracting characteristics aren't instantly evident. You have the visual (flash) or lateral line (sound produced by shaking) stimulus, but you can find other less obvious gains that blades bring to the table.
Into the jig-spinner group, three of my favorites are among tons of jighead choices for walleyes, and have remained go-to choices in a broad variety of scenarios. It's hard to find a situation where adding a blade wouldn't be a good idea, because there aren't many jig scenarios where it can't be utilized. Now, there's a proliferation of new jig-spinners to be used with soft swimbaits and other plastics – a lure type that's hot in both bass and walleye fishing.
The clip enables a quick change of blade styles or sizes, or to attach a stinger hook. Blade size changes along with flash size, type, and hook-shank length. As walleyes frequently key on the blade, the point of the willowleaf blade terminates near the curve of the hook. It's a considered layout, which helps plant the hook in the jaw when walleyes make an effort to eat the spinner.
When you jig a Flasher , the willowleaf works much like a bladebait, giving off flash and oscillation. This lets one impart movement that is exceptionally attractive with a small sized 1/4-oz short-shank Flasher. Like when you're ice fishing, but I may also fish it in a finesse manner. In either instance, tie with a loop knot like a Rapala knot, which gives additional kick actions when jigged, and frees the jig motion. The activity is more haphazard, and that might seem more enticing to walleyes.
High hops over your head as far as your pole reaches can be as deadly in open water as under the ice, and are a great trigger. This arbitrary 'snowboarding' activity on the fall is essential. You must assume a fish has snapped up the lure every time it is raised by you. It's astonishing how frequently walleyes pin the jig against the rocks. As you lift the Flasher jig, be certain you always feel for weight and be sure your rod is in place to place to set the hook.
It's possible for you to use shiners and 'crawlers with long-shank Flashers and leeches on short-shank versions. Dress your jig-spinners with various softbaits, including straight, heads that are quivering, and paddletails that pulse. When coupled with plastics, for stealthy maneuvers along weedlines, these jigs stand out. During the August crayfish bite, a favorite is a Clear Set Flasher Jig in the Clear Orange design that is metallic, dressed with a 5-inch Wacky Worm in pumpkinseed color, works great. With something like a 3/8-oz Thumper Jig, with a blade pinned beneath the chin, turn the softbait so the tail rides up. If you do it this way, you optimize motion and shaking of both the softbait tail and the blade, and may get the action from the lure when it is pumped or used as a swimbait.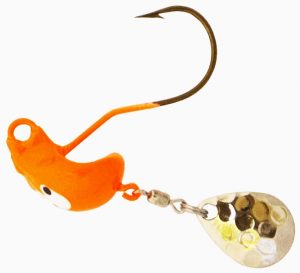 Among a plethora of prospective jig-spinner and pairings that use a softbait, a 1/4- or 3/8-oz Thumper Jig with a 3- or 4-inch Pulse Smelt is a fine Minnow imitation. The Oddball FinSpin Jig continues to be a brilliant choice for pulling a Ringworm in river current, like 4 or a Moxi -5 inch.
Most of that time, it's significant when fishing a walleye spinner jig to fish and jig sharply, to attract with the spinner, and then the plastics give profile and slow the fall. In water that is warm, if you're pumping and tearing the pole, or not transferring the lure comparatively quickly, the blade won't do much beyond miniature small flickers, and you won't trigger as many strikes. Pop them quickly and vigorously to get the blade thumping and whirling through the water. The combination of a paddletail and a blade worked in this manner is among the finest ways to fish shallow windblown structure in summer or when fishing around weedlines.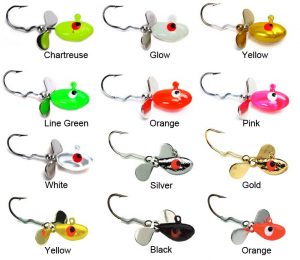 A Jig with a spinner is a classic and a leading walleye jig. The Whistler Jig came along soon after the firm was founded by John Peterson in 1975. John was interested in baits with a built in sound. He needed a jighead that created an audible oscillation, which led him to his jigs to these small propellers.
Peterson's airplane propeller did more than whistle. What he intuitively understood was, the fish catching charisma of his Whistler Jig was about flash or sound. With its tapered, teardrop-shaped head and whirling propeller, anglers found the Whistler dropped, with a helicoptering movement that falls at about half the rate of other weighted jigs.
This can be crucial in chilly water, and particularly in filthy water. The head layout and location of the blade causes the jig-degree angle on a sort of a hovering descent, rather than a straight plummet to the bottom.
The Whistler in 3/8- and 1/2-oz sizes can be a special call lure in warmer water. Use aggressive jigging, and frequently dress the jig with a softbait rather than the usual leech or minnow.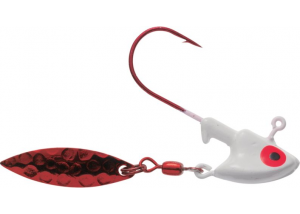 A 1/8-oz, short-shank jig is been excellent for throwing to shallow sand, gravel, and freshly appearing vegetation in springtime on natural lakes such as Mille Lacs or Leech Lake in Minnesota. The power of jigs goes beyond shaking or flash. Each of these jigs sport that which may lie at the center of its allure to walleyes:  a little Colorado or Indiana blade, which supply flash and vibration to call those walleyes in. Now, when they are fished by you, you understand that the blade acts by stabilizing the bait in the water. In some instances, such as with Jig and the Thumper -A-Spin, the blade also adds a shimmying or rocking movement that activates specific softbaits and nightcrawlers. With the Oddball FinSpin, you get a teeter-tottering; a steady, rocking activity when you pull it along the base with tantalizing movement when you twitch it.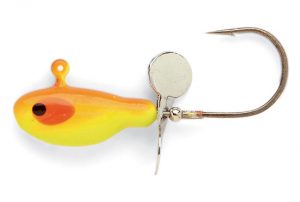 As Matzuo Whirly Jig and the Whistler Jig use propellers that are little to stabilize them and impede drop-speed, the blades on other jig-spinners keep the jighook in an erect posture for solid hooking and prevent them from fouling and rolling.
Lately, more bass anglers happen to be wielding blade jigs especially in waters with shad, working them slow-rolling through wood and around shallow, vegetated flats. Several popular bass jig options have walleye uses, like Underspin, Head Spin, the Blade Spin, and Swim/Spin Jig.
Try it on your next walleye trip.