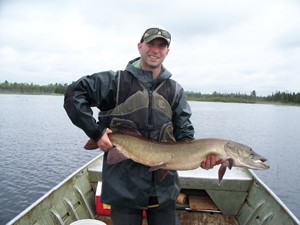 When an avid angler hears about one of the most premier opportunities for muskie fishing in the eastern U.P., they should probably take note. The fishery I'm referring to is Dollarville Flooding, located in Luce County in the Tahquamenon River drainage. The muskies there are primarily from wild stock and it provides plenty of opportunity to catch lots of fish.
Historically, muskellunge have been caught in the Tahquamenon River before the creation of Dollarville Flooding in 1972. About 60 years ago muskellunge were stocked in the Tahquamenon River and more recently in the 1980s. Since that time, the population has become self-sustaining and it's a fun experience for anglers.
"Dollarville Flooding provides anglers with an opportunity to catch a high number of fish near legal size (42 inches)," said Cory Kovacs, DNR fisheries biologist out of Newberry. "There are a few opportunities to catch legal-sized fish, but the normal catches are in the upper 30 and low 40 inches. But, 10 to 12 fish are caught by anglers each day – when you look at those numbers that's approaching Lake St. Clair status!"
Kovacs explained the favored tactics of those coming to the waterbody to target muskies include casting crankbaits and trolling live bait (such as suckers). They'll often cast in the flats off the channel or anywhere where the river channel bends. Anglers will often target deeper holes, say seven to eight feet – which is about the maximum depth you'll find there.
The best times to plan a trip is near the season opener (May 15) and then in fall (end of September and into October). Anglers should note 100 muskies in the water have been tagged by the DNR – with jaw tags on the upper left lip – and if they catch one they should report it either online (via the DNR's marked and tagged fish website) or call Kovacs at the Newberry office (906-293-5131, extension 4071).
All this information doesn't guarantee anglers a successful trip, but Kovacs is quick to point out that there are other angling opportunities to be had at Dollarville Flooding, aside from the muskellunge.
"It does provide a yellow perch fishery in spring and fall with catches around seven to 10 inches," he explained. "Walleye are also there, but not ample."
There are plenty of spots to gain access to the water, with a boat ramp above Dollarville Dam and another at Natalie State Forest Campground. Plus the DNR's Fisheries Division put in a fishing pier in the 1990s that is ideal for those without a boat.
Can't make it to Dollarville Flooding? Two other waterbodies in the area also have muskellunge fishing opportunities – South Manistique Lake and North Manistique Lake (Round Lake). These include stocked populations.
"This fishery is drawing anglers from across the Great Lakes to target a 'numbers fishery'," said Kovacs. "I've personally fished the area and although I wasn't successful I think there are plenty of anglers who have been successful and are very satisfied with this fishery."