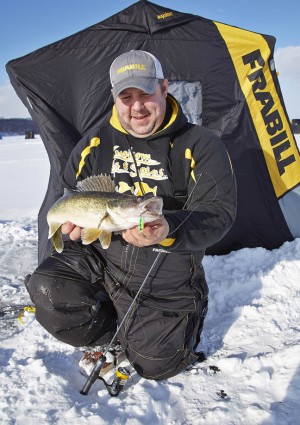 Methods like the jig and meat combo start to shine right about now, when cold snaps start getting measured in weeks and that first-freeze rush has kind of petered out. Walleye are still absolutely catchable using lures and jigs with more razzle dazzle, stroked quicker. But season after season, batting cleanup with a well-placed baitfish gets hotter and hotter the colder it gets.
What's nice about these colder periods is they force me into moving around less and slowing my entire approach way down. How is that even remotely a good thing? For one, camping out on good spots really lends itself to being thorough, meticulous and maximizing what I'm doing. There's nothing better suited to soaking great structure than a baited jig. Use the cold and rougher travel to your advantage. Ma Nature wants to pin me down all day with huge wind chill or deep slush all over the take? No problem. I'll set up on a sweet spot and kill it softly. Don't fight the bite. If things slow down or you're unable to be as mobile as you'd like, capitalize on it.
You'll love the way a jig and bait buries its chances. Walleye eat it and hooking/landing percentages are almost perfect. It's a key method for mid-winter fishing and a terrific slump-breaker, too. If you're marking walleye that won't eat spoons or other lures, send one down, believe me. On your Solunar events or during light changes (daylight to dusk will always be a top one), having this type of tool ready to use makes a huge, huge difference, in terms of walleye caught. It's really that simple.
In two-line situations throughout North-Central Ontario – and much of the continental Ice Belt for that matter – not much beats a jig and minnow combination for scraping extra walleye off the spots you jig. Spoons, rattle baits and other lures bring fish under you, and a lively dace, chub or golden shiner set up nearby adds a whole other angle to your game. Struggling against the weight of a lead ball in its nose or back, a minnow rigged this way is just too easy for a walleye to eat.
Inside a shelter, rig up a horizontal rod holder and set your drag to slip a little if a good fish scoops up the jig and minnow when you're not looking. I like shorter rods, from 26 to 32 inches long with a soft tip. A bouncy tip shows what your minnow is doing at all times and gives walleyes a cushion when they pick the bait up. You'll see them hit before they feel the rod. Set the hook by simply lifting firmly and reeling. A good jig hook slips right in, without much effort.
Precision jigs have emerged as my favorite head for two reasons:
1.) A sharp, fine-wire Mustad hook does minimal damage to live minnows, so they stay frisky and looking for trouble.
2.) They're available in huge varieties of weights and colors. They're one of the few that have a true, gold plated jig head. In the tannin/iron-stained lakes in northern Ontario, this color is just aces for me.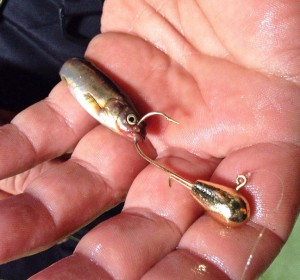 Tip-ups with live minnows generate tons of walleye all winter for us too, but nothing beats watching a fish hit right beside you and then fighting it on a light rod and reel outfit. Of course, look for walleye on your sonar as you jig with more aggressive lures. You'll be impressed by how many respond to the jig and minnow.
It's worth noting that while walleye in the inland lakes we fish 'up north' love the jig and minnow, so too do our big water fish, in places like Georgian Bay and The Bay of Quinte. If you fish anywhere along Ontario's Trent-Severn system, in the Muskokasor on that big beauty they call Lake Nipissing, get a couple different jig and minnow rods set up and play them.
And one more thing: small, heavy, lower-action spoons also make a deadly anchor for a live minnow who's good and irritated. Think Buckshots, Swedish Pimples or my personal favorite, the Vertiglo Lightning spoon. Knick the minnow around the dorsal fin, give the glow paint a good zap and feed it to 'em.
JP Bushey is a fishing educator and syndicated fishing columnist living in Barrie, Ontario. North-central Ontario is where he spends the bulk of his time on water and ice, from Lake Ontario's Bay of Quinte to the spawning, Georgian Bay and all points in between.