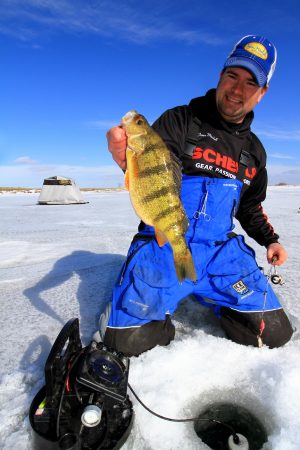 Ice fishing destinations and adventures abound across both the United States and Canada. Some of these destinations are exotic and remote, while other hot spots are on a high cycle. This ice fishing season, make a point to expand your horizons and explore some of these destinations.
For many reasons, ice anglers are beginning to travel further away from home. More anglers are traveling to destination fisheries each winter, the desire to travel fueled by information gleaned from social media and web forums.
Equipment just keeps getting better and more reliable, then factor in increasingly dependable snowmobiles, GPS and more rugged and durable equipment, and it is no surprise that ice anglers today are becoming more adventurous. Today's world is indeed smaller.
We have traveled across the Northern Tier extensively chasing some of these hot bites and here are some of our favorite adventures from the past few years.
Lake Winnipeg, Manitoba
This massive body of water produces some impressive walleye. In fact, I dare say that in a week of fishing, you will probably hold more ten pound plus fish in your hands than you would ice fishing over a decade on any other inland body of water. Lake Winnipeg is not for the faint of heart. You will need either tracks or a snowmobile, but you will see a few crazy Canucks bouncing around in pickup trucks. The expanses of hard packed snow can be hard on equipment.
The conditions can be brutal. If you can break something, you will break it on 'the Big Windy'. This ice fishing hot spot is ground zero for the rattle bait craze, but over the last few winters, big flutter spoons have become the hot presentation. Once you get a taste of the big 'green back walleyes' this water is famous for, you will want to do this for the rest of your life.
Guide Jason Hamilton, www.jasonhamiltonoutdoors.com
Travel Manitoba, www.travelmanitoba.com
Fort Peck Reservoir, Montana
This rugged reservoir on the Missouri River in eastern Montana is remote, and I have often joked that I felt like I was fishing in Jurassic Park because so many of the fish are just so big and old. Massive northern pike, walleye and lake trout create the ice angler's predator trifecta. Because of the amount of rock along the shorelines, you will need an ATV but snowmobiles suffice during winters when there is more snow.
Fort Peck requires diligence with ice conditions as the water can fluctuate, and there is moving water, along with methane gas pockets that can create unsafe ice. We often targeted primary points and reefs in the Dry Arm out of Rock Creek and found good fishing, while hardly seeing any other ice anglers for days at a time. For the less adventurous, the Duck Creek Area is less remote but can produce.
Montana's Missouri River Country, www.missouririver.visitmt.com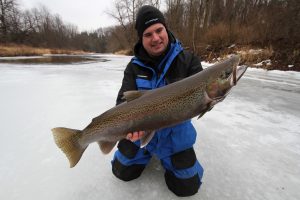 Lake of the Woods, Ontario
Lake of the Woods is a special place and always a fun adventure. Of course, there is great fishing State Side and there's plenty of great water to explore out of Baudette and Warroad. I love the diversity further up north and the scenery is striking. Within 50 miles of Nester Falls is some of the best easy-to-drive-to lake trout water available in my opinion, with fish over 20 pounds a real possibility. Ice anglers can also find untouched schools of crappie, along with hoards of walleye. If you love to snowmobile and love to fish, this destination is tough to beat.
Vic and Dots Camp, www.vicanddotscamp.com
Glacial Lakes, South Dakota
If you were to look at a map of northeastern South Dakota and draw a line from Brookings to Aberdeen, you are looking at the heart of the Glacial Lakes Country where there are literally hundreds of lakes. Small town Americana at its best, and there are numerous little towns with really friendly people. Several hotels and lodges are scattered throughout the area and there are so many lakes to fish.
The jumbo perch put this region on the radar for ice anglers, and no doubt that the perch fishing is as good as you will see fish over two pounds possible from places like Bitter Lake and Swan Lake. But don't overlook the multi-species opportunities for walleye, bluegill and crappie. I have spent a lot of time in this area and still don't feel like I have scratched the surface. This is an unbelievable area for ice fishing.
South Dakota Glacial Lakes Tourism Association, www.sdglaciallakes.com
Guide Corey Ewing, www.waubaylakeguideservice.com
Guide Jarrod Fredericks, www.southdakotaguidedfishing.com
Lake Gogebic, Michigan
This sliver of a lake in the Upper Peninsula of Michigan is an adventure. With average snowfalls each winter that measure over the top of your head, people sometimes use snowmobiles to get to work. This fishery is one of North America's top bodies of water for consistently kicking out perch over the magical two pound mark. You will probably catch more perch in the Dakotas but there is perhaps no better place to specifically target that caliber of fish. Expect to encounter a finesse bite that requires a methodical grinding approach where anglers often score the biggest fish by dead sticking with mayfly wigglers.
Guide Jon Sibley, www.fishwithguy.com
Devils Lake, North Dakota
A longtime popular ice fishing destination, this massive natural lake in North Eastern North Dakota can be simply incredible. The good days are as good as it gets, with trophy class perch, pike and walleye all a possibility. For perch over two pounds, I am partial to Lake Irvine and Lake Alice, which is connected to Devils Lake through the Mauvais Coulee. Good fishing can be found throughout the entire system however, and with a walleye season that doesn't close, late ice can be prime time. All the fish seem to share that incredible girth and the walleye numbers in particular are off the charts.
Devils Lake Tourism, www.devilslakend.com
Woodland Resort, www.woodlandresort.com
Perch Patrol Guide Service, www.perchpatrol.com
Lake Michigan Harbors, Wisconsin
While the Milwaukee Harbor remains open through the winter and provides incredible fishing for kings, browns and steelhead, there are some really cool ice fishing opportunities on some of the smaller harbors and tributaries for both brown trout and steelhead. We have filmed a few times on the Sheboygen River for steelhead, and these small streams and harbors have become a true destination for ice anglers across the Midwest. Perhaps the best brown trout fishery on ice for fish that can exceed 20 pounds. Also one of the best bets for icing big steelhead that you are going to find.
Guide Eric Haataja, www.wibigfish.com
Lake Oahe, North Dakota
This Missouri River Reservoir starts south of Bismarck, North Dakota and winds all the way to Pierre, South Dakota. In recent years, the upper end of Oahe has seen an incredible explosion of crappie, and these fish often surpass 14 inches. This fishery is riding on an incredible year class of fish that will die of old age in a year or two but for right now, this fishery reminds me of the Red Lake glory years. Focus on creek channels that have submerged brush in any of the larger bays like Beaver Bay, Four Mile Bay and Porcupine Bay. Walleyes can also be reckless as well and there is a really good chance of tangling with pike that can surpass 40 inches.
North Dakota Tourism, www.travelnd.com
So Many Fish, So Little Time…
Of course, there are so many great destinations that we didn't get to cover in this article. Places we hope to explore soon. Bay of Quinte walleyes come to mind. There are the pike and walleye of Tobin Lake, and other road trip fisheries for giant lake trout, like Clearwater Lake in northern Manitoba. Of course, the closer to home standbys, like Minnesota's Upper Red Lake or Nebraska's Valentine Refuge Lakes are always fun. One particular ice fishing adventure we hope to film soon is sheefish in Alaska. Many of these destinations can be fairly affordable, particularly with a handful of friends, and can truly add to your life experiences.
By Jason Mitchell