Anglers appeared on South Carolina's Lake Hartwell for Day 1 of the Coldest Bassmaster Classic in history dressed in layers and state-of-the-art rain and winter wear, many with hand warmer-lined pockets and gloves, heated muscle packs, even small portable propane heaters.
"You just have to get out there and fish … and consistently get big bass to bite every day," says Humminbird pro Brandon Palaniuk, who finished second in the frigid 2013 Bassmaster Classic on Oklahoma's Grand Lake.
A tall order, especially in unseasonably low water temperatures.
But finding fish? A dozen Humminbird pros willing to go on record at the Bassmaster Classic Media Day on Thursday, February 19th, said it was the least of their concerns – bold statements considering Hartwell's 56,000 acres and nearly 1000 miles of shoreline.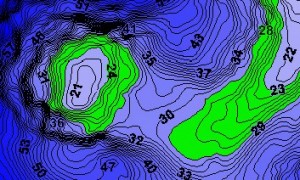 "The new Humminbird LakeMaster map. The detail is unbelievable. It can help you find spots fast. Plus you've got Water Level Offset, Depth Highlight and Shallow Water Highlight," says Aaron Martens.
Numerous Classic contenders will be employing Bow 360 to gain a competitive edge.
But it's more than staying comfortable – it's about keeping your gear working optimally – like reels running smoothly and line guides free of ice – and maintaining an unbreakable mental game.
But the real secret pros Keith Combs, Aaron Martens, Brandon Palaniuk, Brett Hite, Chad Morgenthaler, Ott DeFoe, Matt Herren, Bobby Lane, and Gerald Swindle share are new Humminbird Onix units with touch-screen capabilities and unparalleled 2D sonar, Down Imaging and Side Imaging via a completely new transducer with a designated element for each technology.
Pro Aaron Martens believes ONIX will help take his finesse fishing game to the next level: "The imagery is unsurpassed. I've used them all, but the Humminbird ONIX's Down Imaging, Side Imaging and 2D sonar is just phenomenal. I'm really excited about it."
Fellow bass pro Gerald Swindle agrees: "There ain't a better unit out there that I've ever fished with. I've said that every day I come in from practice. I am looking at the future of bass fishing. I see better Side Imaging, better Down Imaging … Us not knowing where the fish are is not going to happen anymore. We can see 'em, it's up to us to catch them. ONIX is rocking the house."
"I can look at a brush pile and see if there's a one-inch branch hanging off the brush. It is that amazing," says Bobby Lane.
Putting every piece of technology in their favor, Brandon Palaniuk, Keith Combs, Ott DeFoe, Matt Herren and Chad Morgenthaler will also be using Bow 360 to gain a competitive edge at the classic.
"I'll use GPS to get close to where I want to fish, but GPS, no matter how good it is, is shooting back up into space and back down … 360 tells me exactly where the spot is for no wasted casts. I can even see fish swimming on cover," says Palaniuk.
Despite the cold weather, these Humminbird pros feel confident in what they've found during practice and can produce during the event, thanks in large to amazing technology.
Still, it's one thing to find fish, and another thing to put 'em in the livewell.
Bobby Lane aptly sums it up: "You're looking for five of the right bites. This is the Classic, man! You go in for the win!"