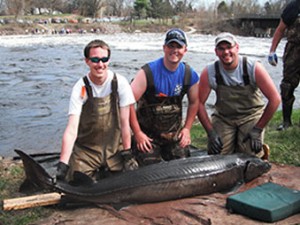 Spawning has been rapid, as anticipated, and this should promise some great sturgeon fishing when season opens later in the year.
Today (April 18) was a big day for our fisheries crew on the Winnebago System. We had three crews working to tag sturgeon below the Shawano Dam and we were able to handle 700 fish. This was especially a productive day because we also collected and fertilized eggs for multiple sturgeon restoration projects, which significantly slows us down compared to just collecting and tagging fish.
– Ryan Koenigs, sturgeon biologist, Oshkosh.
Sturgeon spawning
During mid-April to early May, Lake Sturgeon travel upstream to their spawning grounds, giving the public a prime opportunity to see these ancient ones up close.
Sturgeon spawning is dependent on water temperature and flow. During seasons when water flow is high and water temperatures rise slowly, spawning begins when water temperature reaches 53 degrees Fahrenheit. In contrast, during seasons of low water flow and more rapid water temperature rise, spawning does not begin until water temperatures reach 58-59 degrees Fahrenheit.