Double D Outfitters, The Waterfowl Migration is ON
Airdrie, Canada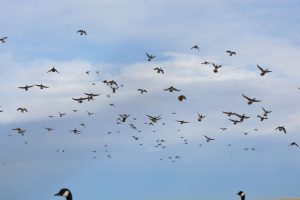 Being asked to go on a duck hunt with Darren and Daryl was a major privilege.  It was stress free for me. Just watching the pros show me how it is done.  They called very little and were amazingly accurate on the time the birds would arrive.
We set up for 3:00 pm and had the coffin blinds set up, with wheat stalks from the local field tucked into them.  The ducks were flying in like crazy. Even as we set up in the field, the ducks tried to land right beside me as I was getting into my blind.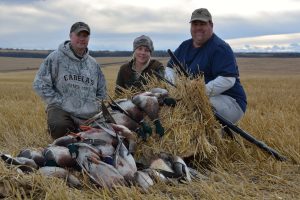 I quickly learned that less is more in regards to calling the ducks in.  They did not respond well to too much calling.  Just a little signal to let them know where we were was plenty.
The migration is on and so we move from ducks to Geese.  There are literally thousands up thousands of speckled and Canadian geese landing in the fields around where I live.
Watching where they are landing as well as understanding where and when they will be in the fields is one of the most important parts of scouting there is.  If you are setting up blinds in a field you have to be hidden and in an hour before sun up.