Always Ready for Panfish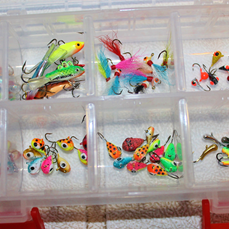 Many of my panfish trips find me walking from hole to hole, trying to keep up with hungry crappie and bluegill. When in the feeding mood, especially on shallow waters, they're almost always on the move, being below you one minute and gone the next. This is where the walking comes in.
Sometimes I find myself 100 yards or more from my Clam shelter, which is actually used as a "base camp" when weather allows me to roam about. It never seems to fail. Anytime I'm a good distance from my shelter, which normally houses several hundred baits, I'll decide to change lures or have a northern pike bite me off.
Solution! Take advantage of the little tackle box that comes with my Vexilar pro pak. Positioned directly below the unit itself, it measures 3 ½" x 7″, and has several adjustable compartments that allow you to carry most anything needed to catch fish.
For me, it's a great way to make sure that a sampling of all of my favorite baits are close at hand. The lures are proven fish catchers, as well as confidence baits for me. There are many other good baits out there but these are the ones I trust in catching fish. Let's take a look at what these baits are and just why I carry them along.
First off is my "go to" lure, the "Forage Minnow Spoon" in 1/32 oz and 1/16 oz. I like this bait for "starters" as it's a great search lure, being flashy, large, and has the ability to drop down to the depths in a hurry. Tipped with a wax worm, hungry crappies often race up to intercept it.
This is a great bait to "see what's down there" and it's often on the end of my rod for the whole day. It's that good.
Next are vertical jigging baits like Northland Tackle's "Puppet Minnow" and Rapala's "Jiggin' Rap." These two are great search lures that get down there in a hurry and dictate how active the fish will be. Oddly enough, I've caught crappies on these larger lures even when they wouldn't hit the smallest offering. There's something there that just triggers them to bite, even after staring at it for several minutes.
The "Mud Bug" and "Gill Getter" are a cinch to make the list, as I've caught more crappie and bluegill with these baits than I can remember. Absolutely deadly, especially when tipped with an Impulse "Mini Smelt" or wax worm. *Remember to cut off 1/4″ off the big end of the "Mini Smelt" during a tough bite. Works well.
"THE Jig", made by Crappie Keith Nelson, makes the list as well and finds a spot in my Vexilar tackle box. This little hair jig, in 1/100 and 1/80 oz has fooled more than it's fair share of panfish, either fished naked (no bait) or tipped with a wax worm or a couple of maggots.  
Northland's "Mooska Jig" and "Fire-Ball Jig" also get the call. Made of tungsten, which is heavier than lead and sinks like a rock, I use the little 1/57 oz when it comes to super fussy bluegills or crappie. Tip it with a wax worm or maggot and you're in business. Use a lighter line, like 2 pound test Fluorosilk.
Northland's new tungsten "Banana Bug" fills the last full slot and although I haven't had a chance to really put this bait to the test this season, it has "use me" written all over it. This horizontal jig is small, heavy, and features a UV finish, attracting fish from quite a distance. I don't think it can get too much better than that. The bluegills will eat this thing up!
I should mention that two of the slots are too small to easily get my fingers into but they cradle my customized "Swedish Pimple" and Lindy's old "Fat Boys" should I get the hankering to use them. These baits have been around for decades and have accounted for thousands of fish, a lot of them by me.
That's it for the "hard baits." The soft baits, like Impulse and Maki plastics, come in small enough packages that they easily fit into my pocket, along with a container of wax worms.
Good luck out on the ice. Have fun and be safe. (Greg Clusiau, HSM Outdoors)