Trust your Spaniel!
My best friend Mando!
I recognize my sweet boy is getting older (10)!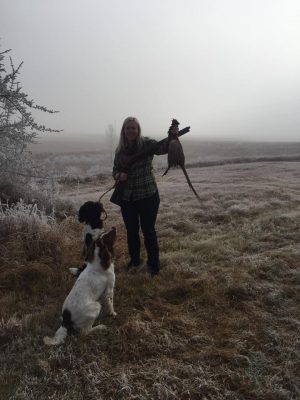 The 1,2,3's of pheasant hunting:
1. Know your furry partner and trust him/her. When he looks back at you and is looking for reassurance, know that you are the one that moves him forward and gives him the energy to track the bird right up until that fantastic flush!  Being patient and letting your dog work out the scent cone is probably the single most important lesson when hunting released birds as opposed to wild pheasants.  I hunted two different ways this weekend.  I was a dog handler at a Pheasant Derby in Southern Alberta.  I have been attending this shoot since 2005.  I had the privilege of handing some of the best shots in the area.  The main part to remember – the shot is only as good as the dog flushing the bird up to be shot!
2. Be alert, and recognize the enthusiasm when the dog is on scent. Check the wind to give them the greatest advantage to produce the bird.   Winds change sometimes throughout the day.  Know that the wind affects how a good hunting spaniel will run.  They will run big and work their way back to you if the wind is coming behind you.  We all like to see the little figure eight at our feet so they are close, yet the dog's natural ability will guide how they maximize the wind and run the way you tell them to with your hand signals.
Shoot straight.  Don't be in such a rush to shoot it right off the flush.  Sometimes letting it get up will give you a better advantage and position your gun to be more accurate.  The pup wants the reward to fetch the bird.  They are out there to be your legs and smell what we cannot.
If you want tips or more help on this topic feel free to comment!
Happy Hunting!  Dianne