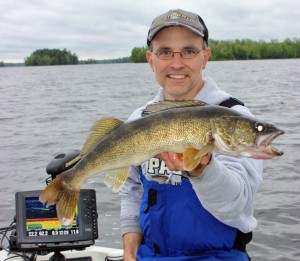 The opening of walleye fishing season across the Walleye Belt is a time of great anticipation, when 'opener' traditions among family and friends are once again enjoyed, and dormant friendships with bait shop owners are rekindled. Whether you push away from the dock at 12.01am on the first day of the season, or take a more relaxed approach and fish strictly 'bankers' hours' during opening weekend, it's likely that you will fish the same places you always fish, using the same presentations you've always used. And why not? It's worked in the past, and will hopefully work again.
However, the 21st-century angler is not limited to fishing memories.
We can step outside of our comfort zone, with the possibility of being rewarded with bigger and better catches than we typically experience as the season opens. Modern digital cartography and time-tested Side Imaging makes it easier to find walleyes than ever before. Use them to your advantage as you launch your boat in pursuit of the first walleyes of the new season.
Some anglers that pursue opening weekend walleyes enjoy fishing the same lake year after year, while others relish the challenge of finding fish on new lakes or rivers by taking their opener show on the road. On new or unfamiliar waters, a GPS system such as SmartStrike, which is compatible with Humminbird ONIX and ION systems, allows users to perform species-specific searches on LakeMaster HD lakes, with additional inputs including time of day, time of year, prevailing weather, water clarity, and a host of other walleye fishing variables.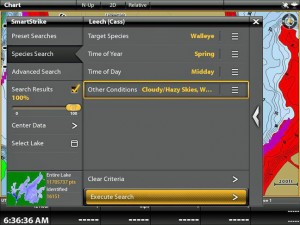 Here is an example of the SmartStrike setup menu, with a search designed to find opening weekend walleyes on Leech Lake in north central Minnesota.
My SmartStrike search for opening weekend walleyes, during the day, on a cloudy, windy early season day (in other words, typical walleye opener conditions) provided these options on the southern half of Walker Bay. These productive areas highlighted in purple areas definitely fit the pattern we would expect for walleyes that are several weeks after the spawn: on the edges of shoreline flats, right where those flats transition to deeper basin areas.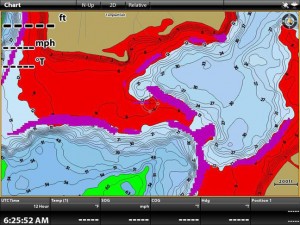 Whether you are fishing a time-tested location or a new hot-spot, recognize that opening weekend walleyes will not be scattered randomly around those areas; they will always be concentrated in particular spots, typically associated with whatever cover might be present. The water is still cold at this time of the year, so weed growth will be sparse. Now is the time to focus on wood, especially trees that have fallen into the water and extend into depths of 3-5 ft. Submerged stumps are an excellent alternative if you are fishing a reservoir or flowage.
Here is an example of a structure trifecta of a dock, some emerging lily pads, and a submerged stump that is holding a collection of early season fish, likely walleyes or other game fish. Crappies and bluegills are bunched up at this time of year, so when using Side Imaging to find walleyes, bass or pike in cold water, expect to see only a handful of fish returns at a time. Walleye opener has finally arrived…enjoy!
Dr. Jason Halfen owns and operates "The Technological Angler", a media company dedicated to helping anglers learn to use their onboard technology to find and catch more fish. Their first full-length instructional video production, "The Technological Angler, Volume 1: Success with Side Imaging", was the winner of the 2014 AGLOW awards-in-craft competition in the TV-fishing division.
"The Technological Angler, Volume 2: Integrated Technology" teaches anglers to harness the power of 2D sonar, Side Imaging, Down Imaging, 360 Imaging and the i-Pilot Link system, to find and catch more fish.