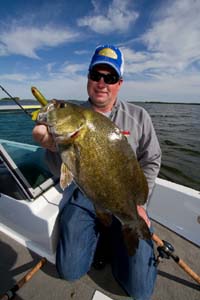 Smallmouth bass are one of my favorite fish to target and when we look at the fishing opportunities available up and down the Missouri River Reservoir in both North and South Dakota, there is no shortage of great fishing opportunities. For strong numbers of fish up to nineteen inches, Lake Sharpe, Francis Case and Lake Audubon are all great bass fisheries. For a chance at bigger fish, you cannot go wrong with either Oahe or Sakakawea.
All of these impoundments can be considered big water in their own right. All of these reservoirs offer endless options for structure and bass habitat. The basic patterns seem to be the same across the board but each body of water offers unique patterns as the geography of each reservoir does vary. Both Lake Sharpe and Francis Case have countless bluffs and sharp breaking rubble shorelines that drop into deeper water that often hold bass. On both of these lakes, shad can dictate where these fish will be located. Lake Oahe and Sakakawa have no shortage of rocky points and sunken islands that offer the right structure for bass. Lake Audubon features numerous shallow rock reefs and islands where bass are numerous. Across the board, very few anglers target smallmouth bass and the fishing is excellent.
The basic patterns and locations usually boil down to finding the right combination of rocks and water depth. Early in the season, some of the best locations seem to be either rock bars or points that are tight to a shoreline or large shallow shelves or reefs that have good rocks present. Rocks of varying sizes from large to small are usually on the best spots. Round rocks are usually the best. Some of these spots are hazards that are less than two feet of water. Later as the fish transition deeper, breaks and deep points that also offer rocks are often holding fish.
Weeds like curly leaf pondweed which has become so common on both Lake Audubon and Lake Sakakawea can make some of these locations better and there are days where the weeds produce more fish than the rocks. On both Audubon and Sakakawea, the tops of the reefs are often rocks but the sides of the reef anywhere from four to ten feet of water is thick stands of pond weed. The smallmouth bass usually seem to use both the weeds and the rock. When the fish are shallow, pieces of structure that offer a shallow flat of both weeds and rock is usually the ticket. Bismarck, North Dakota angler Mort Bank spends a tremendous amount of time targeting these fish and explains that many anglers who are fishing for walleyes miss these bass because they don't fish shallow enough.
Early in the season, bass will often be positioned in water just deep enough to cover their backs. As the summer progresses, some bass will often shift up on top of the structure during the early morning. Flat calm days are usually best for finding fish really shallow. Wind or rough water will often push the bass deeper. Since there is no shortage of wind in the Dakotas, playing the wind and monitoring the water clarity is often the deciding factor for patterning bass. For bass, the cleaner the water, the better. Avoid dirty or stirred up water. Usually when there is wind blowing up on an island or point, the bass will often position on the calm side or right on the edge where the rough water meets the calm water.
Water visibility is often pretty good on these lakes unless a strong wind has been pounding for several days. For eliminating water and just looking over parts of the lake, lures that can be fished fast often enable me to find schools of bass.
Great search lures include rattle baits like the Salmo Zipper or Rattle Trap. Crank baits work really well but cannot be cast as far as rattle baits especially if you have to cast against the wind. Great colors include brown and orange, silver and blue along with classic shad patterns. Spinner Baits work really well whenever there is cabbage or curly leaf pond weed present. Great color options are orange, chartreuse and brown with gold blades or white with silver blades.
Over the years, we have filmed bass fishing segments up and down the Missouri River System and the presentations an angler can use to catch bass on these reservoirs runs the gamut of structure fishing presentations.
Whenever bass are shallow, try casting top waters, spinner baits, suspending minnow baits, crank baits or soft plastic swim baits. As fish move deeper, nothing beats a tube jig, Carolina Rig, drop shot rig or other jig rigged with a soft plastic for slowing down and working a school of bass. On sunny calm days, the deeper fish often suspend off the bottom a touch where you can mark them with your electronics. When you cannot mark fish, I often catch a lot of bass by throwing tube jigs up onto the rock structure and slowly work the jig back to the boat as fish are often just tucked into the crevices of boulders. Whenever you can mark fish in deeper water by using your electronics, just dragging jigs below the boat (over the top of the fish) works as good as anything.
Great color options for soft plastics include the classic motor oil, pumpkin seed and watermelon. Anything black, brown, dark green or orange can work but white and pearl are often worth trying. Tubes along with grubs, craw imitations and straight worms all work well. How and what you use is often dictated by how slow you have to fish. Tubes and grubs are versatile in that you can fish fast or slow, close to the bottom or high. Drop shot rigs require you to slow down more but wacky rigging a straight worm through an area slow usually triggers fish if you are confident enough with the spot to slow down and work it.
The smallmouth bass fishing opportunities in the Missouri River System are what I would consider exceptional and the best part about these big brown fish is that few anglers target them on purpose. When Mort Bank and myself, filmed a top water smallmouth bass show on Lake Audubon earlier this season, I joked that if Lake Audubon or Lake Sharpe were in Tennessee or Arkansas, there would be Bass Master Classics on these lakes. That is how strong the populations of bass are on these fisheries. When you combine excellent number of fish, the opportunity for big fish and the fact that none of the spots have seen any pressure, that combination of factors create great fishing opportunities.