In August, many anglers are targeting late summer crappies. By learning to read the late summer crappie patterns, you could find some hot places to fish simply because so many anglers are pursuing other species. That leaves the bluegills, perch, and crappies to become fat. Energy reserves burn faster in the warmest water of the year, so during summer, panfish need to eat the most. Knowing this, you can target your fishing to optimal spots: concentrations of fish happen where forage is optimal and pressure is negligible, which means the activity can be targeted and frenzied.
Every sort of reservoir, backwater, and lake pattern is, in some ways, unique. Here are a few to key on.
Crappies in Little Natural Lakes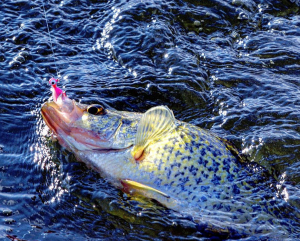 Until the big fish are gone, folks have a tendency to harvest crappies. Shield those slabs when you locate them.
Pitch slipfloats using various lures beneath. It gets fun in August. Hunt suspended crappies with sonar, then sit off the border of the pod and suspend lures and baits just above their heads. A key is a big cabbage bed near a main-basin drop off. Crappies love to hunt over and around cabbage and during lowlight intervals. During the day, crappies scatter and suspend over deeper water nearby.
In August and September, crappies often stay put throughout the day in natural lakes. The finest spots are usually adjacent to wintering basins. Where they spend the winter, crappies suspend above and near the same river basin flats. During the day over depths of 15 to 40 feet, you find them 12 to 25 feet down in late summer. Sometimes it's just 8 to 11 feet. By September, crappies leave the cabbage beds to mass near wintering spots.
Use light mono from  2 to 7 lb on light 6′ to 6½' spinning rods. When you mark the crappies depth, drop your lure until it is hanging 2 feet above the crappies depth, and mark the point where line and water meet with the bobber stop.
Good lures to try are Jigging Raps, 1/16-oz Northland Forage Minnow Spoons, and 1- to 2-inch panfish tubes on 1/32-ounce Jigs. Artificials rule in the warmest water of the year, so a Northland Mimic Minnow Fry can be occasionally used.
Go from pod to pod, targeting the most active fish. Some are a little shallower some a little deeper. Sometimes fish without a bobber on deeper schools, using the bobber stop as a marker so you can remain at the proper depth with tubes or Jigging Raps over their heads.
Goliath Bluegills
If, while late summer crappie fishing, you are on the hunt for goliath bluegills in lots of lakes, the trick is looking for green weeds still standing on deep flats after algae and plankton flowers darkening the water. One of the last to fall over is a large, Christmas tree-like weed we call coontail, along with a weed called cabomba, which also stays alive, and this happens throughout the state.
Bluegills are attracted by Coontail and Cabomba. Spot bushy weeds with your depthfinder, drop the anchor, go a bit upwind, and fish right behind the boat alongside and in the weeds.
Sometimes it takes action on the bait to catch them. Keep it over their heads and shake it, like you do when ice fishing. Slow up and down wave actions can trigger finicky fish. Applying a quiver raises catch rates, if you can manage it. The best means to effect the quiver is to fish straight down and work the pole point the way you would on ice. Fishing straight down, tightlining, with a bobber as a line mark, you know precisely where the lure is placed with regards to the weeds and the underside.
You might want to cover by reaching out with a very long pole or making pitches that are short. A 12-foot rod is more precise for placement and action and little movements are amplified. It allows you to reach out and cover more water. The pole has to be stiff enough so you can thump the lure. You could do it slipbobbering with a medium-activity walleye rod, and transfering the line up and down without making the bobber jump about. The bobber won't proceed much, when the intensity of the quiver is appropriate. Use a feather jig or an ice bait with #10 hooks.
You can tease up the sunfish with panfish leeches, waxworms, angleworms, or plastics. It 's the activity that gets the fish, so sometimes plastics work best. Try using various shapes from Maki Plastics, which are really soft. They're great mediums for interpreting the oscillation you throw into the pole point.
The weed edge that is in deep, clear oligotrophic lakes frequently ends abruptly in 14 to 24 feet of water. In mesotrophic lakes with water that is stained, weeds quit growing at 8 to 18 feet. Lower light penetration restricts deep weed growth. All varieties of bluegill reside in deep vegetation this time of year.
Advanced electronic equipment help you discover crucial components that are locational instantly. With Humminbird's Down Imaging sonar, weeds appear as individual objects. One or two passes along the outside weed edge paints an obvious image of minor external curves revealing remote, in the weedline, thick clumps bordering deep water. Fish or pods of baitfish can be discernible and distinguishable from the weedcover.
Once a key holding place is isolated, methodically fish those areas instead of drifting. Humminbird's Side Imaging sonar can be used to observe fish on and off the weeds. Based on their mood and place, baits and the boat can be repositioned to zero in on them.
The smorgasbord of summer patterns goes on and on for panfish. Particularly in summer, when their universe expands into a large, open marketplace of forage types and habitats ranging from 1 to 60 feet. Hunt long enough and you'll locate them in places you won't anticipate and doing things you never dreamed of. A distinctive pattern is like dark energy; you won't know until you discover them how to look, because it is there.
Reservoir Crappies and Shade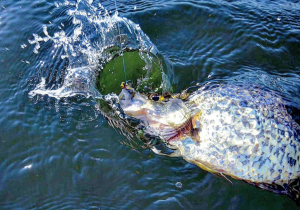 Piers and the deep ends of fallen blowdowns are enormous crappie magnets. Blowdowns with the longest, deepest limbs are awesome. The more complex the weave of branches, the more crappies it attracts. They are on the wood, feeding on insects and minnows.
Pitch fullbodied, 1/32- to 1/64-ounce hairjigs on 2 to 4lb mono. Minnow designs rule. Strikes are marginally more significant compared to the jig and minnow. Move to another blowdown, when activity slows.
Boat slips and marina piers in reservoirs hold suspended crappies through much of the summer for exactly the same motive. They use docks for shade during the daytime. Pitch the same hairjig choices or jigs with 1 inch Berkley Gulp! Minnows on 1/32-oz heads. Bites can be more aggressive than on fallen trees that are deep. It's not uncommon to get quality bluegills and even a huge largemouth on this particular design. On marina piers, fishing can be great on cloudy, cool days when boating traffic is at a minimum, and during quiet periods during midweek. Late summer crappies respond nicely to a slow drop and frequently suspend 3 to 8 feet below the deepest marina docks.