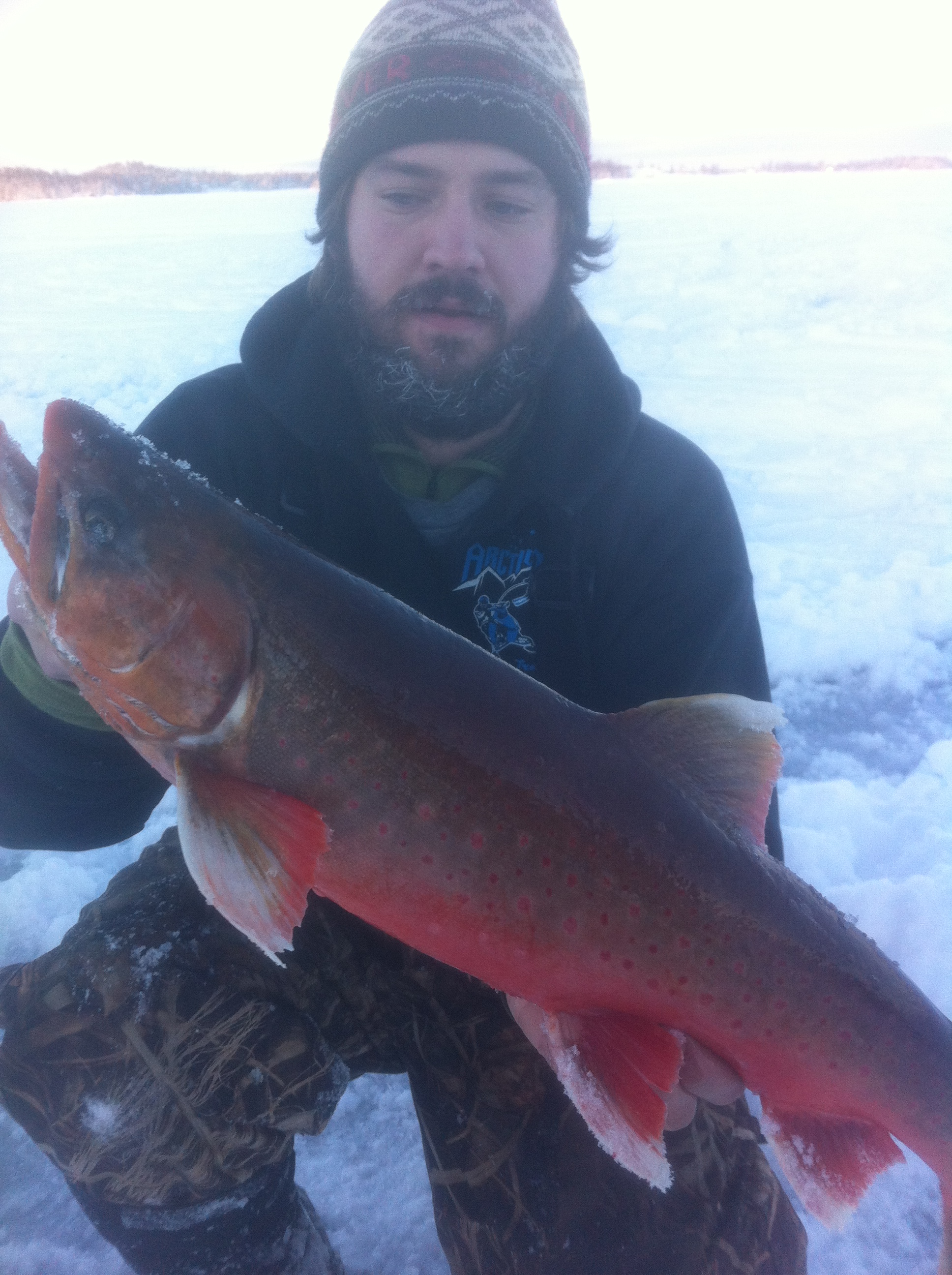 fishkid
we are 'the leading edge' I Share on HSO
Content Count

350

Joined

Last visited

Days Won

3
About fishkid
Rank

Sr HotSpotOutdoors.com Family

Birthday

11/18/1988
Recent Profile Visitors
The recent visitors block is disabled and is not being shown to other users.
normally make fajitas and stir fry out of them but i think my buddy and i are going to grind them all up and make some game sticks. we made some smoked game sticks with the caribou we got that turned out great.

had a few buddies from mn come up and a group of 5 of us went out sea duck hunting for a couple days. Everyone got their mounting birds plus plenty to eat. Barrows, harlys, black and surf scoters were diggin the spread.

Ya those negative tides can be tough. We normally fish kelp so were in 60' or less and havent had an issue even with big tide swings. Most of the time we are hanging bait off of a bleach jug with a 1 pound weight. pretty fun to watch that bleach jug start bouncing when a halibut hits it. I know of a couple charters out of homer that specialize in the shallow water halibut and they are always pulling up really nice fish. If you want to go out of homer next time check out Brooks Alaskan Adventures. He runs an awesome operation. Big halibut and winter kings are his specialties. were you able to fish right off the bank at the house? My wife and i were thinking about renting a place on the kenai next year that has direct river access. The ol grab the gear and see where we end up doesnt work as well with a little one.

FIshing season has pretty munch came to a close for us. Headed in to hunting season full steam. Buddy and i had a 11 mile hike back to get into this promise land and found some nice caribou after a 5 day hunt. Ducks are up next. Opener was last weekend but we were to burnt out after processing meat for 20 hours. Make all our own burger, smoked game sticks brats and breakfast sausage.

Sounds like a great trip! from what i have heard the silvers are comming in thick just outside the bay right now! if you havent seen and have a hour or so to kill go check out the mouth of the kenai where everyone dip nets. its crazy down there. Take main street in kenai towards the river and you can see everything since you way up on the bluff.

Out of homer? Where are you going to to be at while your up here?

Got the family out of homer and we went out snagging for reds. Look for the schools toss your weighted treble hook and let her rip. Next trip out will be with the parents when they come up late july. Going to hopefully find them some rock fish, halibut and silvers.

ADFG raised the red salmon limit to 9 fish a day for the russian river since we have over 60,000 reds past the weir already when we are normally only around 10,000 fish at this time. Decided 7 was a good number after 2 hours of fishing and called it quits. Also got a free piercing! One of the reds i caught had 3 other hooks in it from people snagging them. I grabbed the fish and it flopped around and sent one of the hooks through my finger. Cut the hook pulled it through and caught 4 more fish.

I have no idea whats wrong with them. Maybe some alaska knock off... gotta have some type of beer to drink on the boat other then high octane IPA's. Reds should be running mid july we hit bings on the way down to try and get a few of the russian river fish that pass through and i caught one and lost a few more. Seward is a great place for ocean silvers! catch some and cut the heads off and use them for halibut bait if your lookin for biggins. Them kiltchers think they are very remote as well yet we see them in the local coffee shops down there all the time, figure that one out.

went down to homer this passed weekend to start off the fishing year and do some boat maintenance. Fished for halibut saturday for 3 hours and pulled this one out of the water. I reeled up my line and said its time to move and right before my buddy grabbed is rod out of the rod holder the tip bent to the water. went 55" and ~85 pounds. Went out the next day and loaded up on some real nice rock fish and another 30 pound halibut. next trip down will be 4th july to try to snag some salmon and get some more rock fish (they make the best tacos)

well the ocean adventures are slowly coming to an end this year. Got out for ducks a few times and our best was 30 for 3 guys. Surf scoters, barrow golden eyes and a few harliquin. Havent had much luck for crab. would have gotten into them good this last trip but this octopus decided that the crab and hanging pike i was using for bait was its dinner. He took my crab i took one of his legs to cook up and threw him back. Hopefully he learned a lesson not to mess with crab pots.

got out this weekend. tried to troll for some silvers but gave up at 7 hours of no luck. Decided to try for some halibut and found this guy 135# and 63". We did end up getting one silver eventually

Parents came up for the week and we were able to get out on the boat for some fishing. Silvers weren't in yet, the rock fish were a little slow but we stumbled onto a few real nice halibut. The big one went 160 pounds. Pulled it out of 35' of water, it was awesome watching the drag scream for a few minutes on the first run it took.

Not to much chatter in the alaska forum. Here is a few pictures from this year so far in our boat we just got last year. Mostly just fish out of homer and have been doing pretty good this year. my buddy got that big halibut when we were trolling for kings, quite the fights on a 8.5' ugly stick!

adfg almost really screwed up big time this year. We were way under the escapement goal and the commercial guys had netted almost triple then what was in the river. thats why they had to shut commercial fishing down for that week or so. search the forums up here and you will see all the hooplah about sporties vs commercial guys. In the end we just got over the escapement goal i believe. We ended up buying a ocean boat this year and i have found trolling for silvers/kings in the ocean is alot more fun then snagging reds with 10,000 of your closest friends. Plus way less snags!