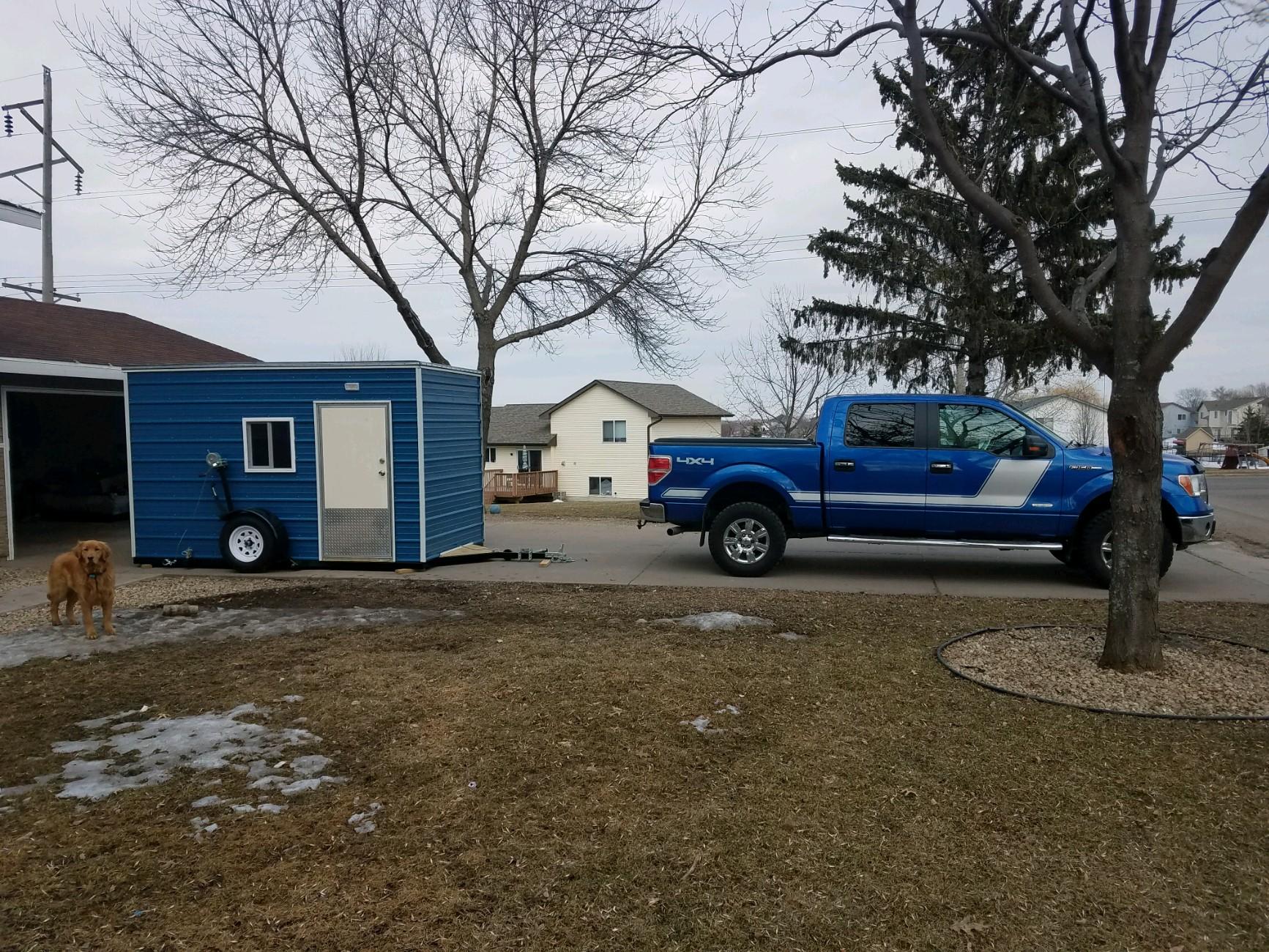 BunchOfish
we are 'the leading edge' I Share on HSO
Content Count

37

Joined

Last visited
About BunchOfish
Rank

HotSpotOutdoors.com Family
Profile Information
Name:
Location:
Interests:

fishing, hunting, snowmobiling, atving

Gender:
All the FRP panelling is done. It came out very nice. Now all i need to do is finish the bunk and table and trim it out. Im going to wait until late summer/fall before i install the carpet so that way it goes into next ice season fresh and new.

Progress was made today. All the poly work is done except for the trim. I got 2 sheets of the FRP up also. Its a nice look. I cant want to see it complete.

This weekend was spent getting the cabinets finished up and a couple coats of polyurethane on all the wood. Very slow going but it needs to be done to protect all the wood.

The T & G is all 3/4". If I was going to do the whole house T & G then I would have use the 5/16" stuff. Also I found much better boards using the 3/4" stuff and the cost wasn't that much more.

Yeah the Ice nuts are on the list of goodies left to get. Hole covers and table hardware is all order.

The opening for the cabinets are cut and the bottom bunk/table seats are all boxed in. I just need to put the hinge on those are done. I still need to put the center cap on the ceiling and put the clear coat on all the wood.

I started the cabinets tonight in this wicked blizzard. I didn't think the house would see any winter use until next winter but here we are getting dumped on. Haha

Husky & German Shepard mix.

Haha! He laid in there all weekend when I worked.

All the T & G is up and its starting to look good.

Haha! Yeah I really don't fish tip ups much probably because they never seem to work for me so I usually use rattle reals inside. And another reason is it always seems like the only time I have to fish is when its -10 out. One of the reasons I'm building a wheel house haha.

I was actually going to do that but then I got to thinking "do I really need them on a 12ft house?" Probably not and I'm only 24 so a little cranking wont hurt me. I think if I would have built a 16ft house I would have use electric winches.

Yeah That's kind of another reason why I'm going to use it. Now that I'm looking at it I probably should have put a window in the back as well but oh well. Now I know for any future builds haha.

Insulation is all installed now. Took longer then I though it would. After doing it I'm going to make sure I budget in spray foam for any future houses I build. I will pick up some of the T & G and start working on that this weekend. I'm going to do something a little different then most houses. I'm only putting the T & G 3 ft up the walls and the ceiling will be covered also. Other then that I'm going to use FRP to keep it nice and bright inside. Its the cheapest way I have found to finish off the inside and still have a nice look when its finished. The plan is to have it finished by memorial day weekend because we are planning on using it as a camper that weekend.