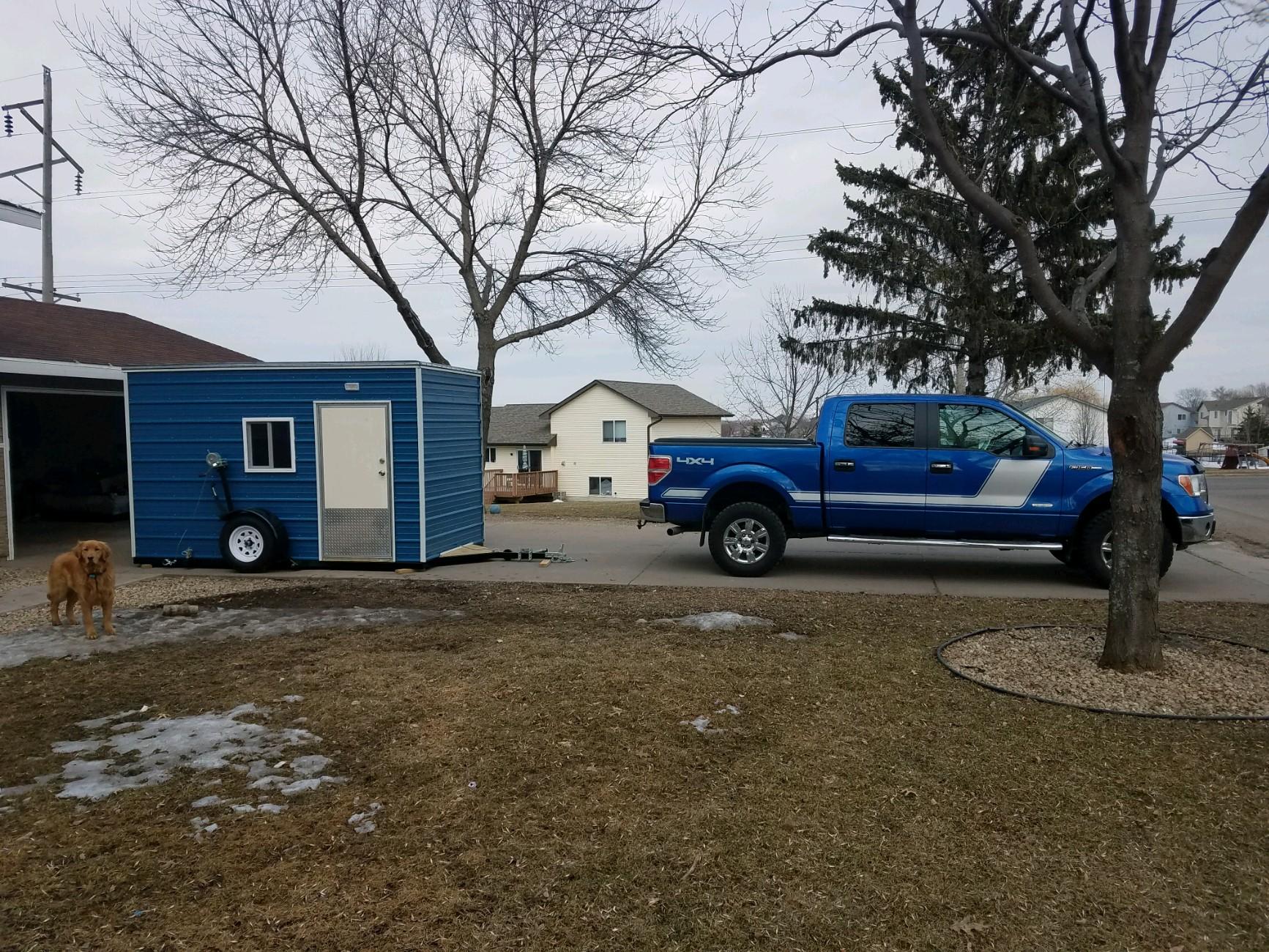 BunchOfish
we are 'the leading edge' I Share on HSO
Content Count

127

Joined

Last visited

Days Won

4
About BunchOfish
Rank

HSOShow.com Family
Profile Information
Name:
Location:
Interests:

fishing, hunting, snowmobiling, atving

Gender:
Things keep moving along. I got a couple doors made for the cabinets and got the hole cut and hole covers installed. I also finished filling nail holes with putty so a little sanding and it will be ready for some stain.

I got the cabinets up. Now i just need to make the doors. The end is in sight.

Yeah that's the plan. My uncle owns a bunch of land over in Wisconsin and would like to use it for their season so the pressure is on me to get it done.

I got another panel up tonight. I also starting doing a little trim work on the side that is ready for it. Looking good.

FRP is going up. Starting to look really nice.

Much progress was made today. All the T&G is up. Tomorrow the FRP will be going up.

Yeah he was down a few weeks ago and checked it out.

Here are a few pictures. I started putting the T&G up on the ceiling. All the lights are led.

I finished up the insulating last night. Depending on the weather the next few days I might try and pick up the T&G and paneling. I have a wedding on Saturday so a good part of my day will be used up and I might be hunting on Sunday(got a pretty nice buck hanging around). So far I'm sitting pretty good to have it done by November.

I'm pretty disappointed! We had the best record we have ever had. Hit the most homeruns ever hit in major league history. Our stats were basically even with the Yankees except they made us look like a minor league team out there. I'm blaming a big part of this on pitching. Like I said 2 months ago, if they wanted to go deep this year then they should have spent some money on pitching. Pitching is a major issue with this team and has been for a long time.

Build update! Things were put on hold last week as I had to do some repairs to my truck. I got all the wiring finished up yesterday and I started putting up the insulation. The plan is to get it fully insulated this week so I can start putting up paneling and T&G. I will have more pictures as I get a little further along.

No Actually I cut it down. I had to so I could park my fish house in place of my boat this winter. It was too low so it had to go. Plus it was hanging out over my garage pretty far. Its also a lot less leave I will have to deal with in a few weeks haha!

I got all the wiring ran yesterday. I can start insulating this week. I will be using the 1.50" thick pink foam board. The plan right now is to have everything wrapped up by November and I will deliver it when I go up north for firearms season(Nov 9th).

I finally finished the tin today. I even got the rear lights hooked up.