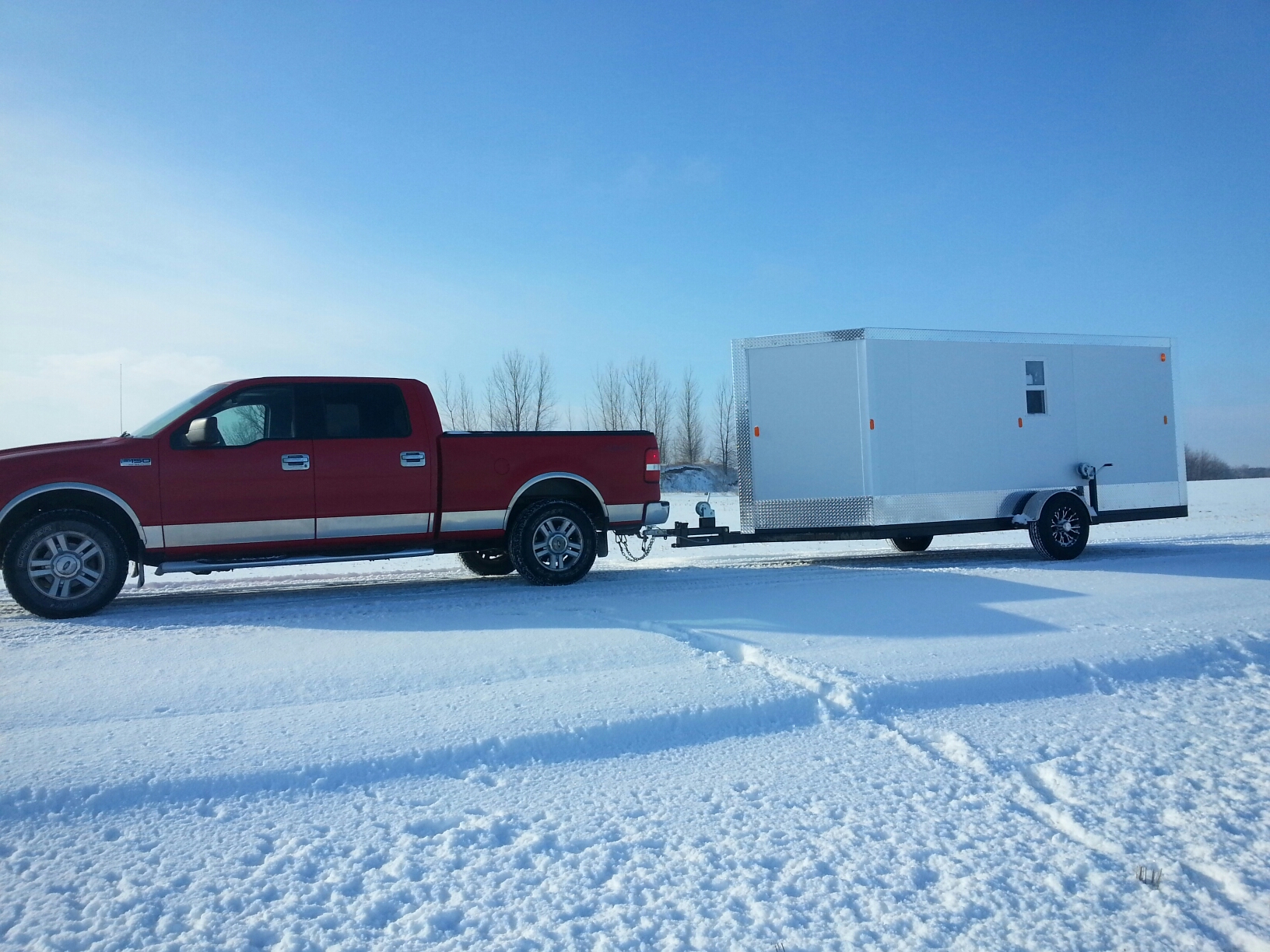 1lessdog
we are 'the leading edge' I Share on HSO
Content Count

105

Joined

Last visited
About 1lessdog
Rank

IceLeaders.com Family

Birthday

09/17/1958
Recent Profile Visitors
The recent visitors block is disabled and is not being shown to other users.
The frame was 6.5x14 with 3 ft V. I had a wall at the end V and a counter top with a cooktop/oven and nothing else in the house. Outside walls were tin like on a enclosed trailer and 2x2 walls. Inside was knotty pine. So not a lot of weight.

I had a Miltona about 10 yrs ago and both axles bent out. Wearing the inside of the tires out in less than 2000 miles

Does anyone know the name of the person that builds frame/trailers out of Perham MN? Or anyplace else? Im looking or a 6.5 x 14 trailer/frame

I just bought a couple of futons and made my own frame.

What brand is this? Thanks

Would be nice if the wind blew and blew some of the snow off the lakes, so they can freeze faster.

Looks like the temps will be down below zero so will me making ice all day and night. But only time will tell.

With the recent storm on Saturday, how much snow do you have on your lakes and how much ice did you have before the snow. In S.E.N.D. the lakes had 4 to 5 inches of snow. Now most lakes have over a foot of snow. Which means lots of slush. What do you have

Im a machinist and seen lots of bent stuff. And fixed lots of them. Yes them grade 8 bolts have shear strength. I have seen 2 inch stub shafts bend on fishhouses.. Your house will weight 1800 lbs then add all the stuff you put in it and your up to 2300 lbs easy. Then bounce across a lake and the top of the house is swaying one to two feet back and forth. Pulling a house across the lake is hard on them. After welding on them and getting them red hot will take a lot of the strength out of them.

Im looking at your stub shaft or pivot shaft. They look real light to me. We have always ran a shaft from one side to the other and it was a 2 inch shaft with 5 .5 inch sticking out. Very little chance it will bend. A loaded house going down a plowed lake road gets pretty rough. Just my 2 cents

I would bet the first time you seen it the OH Ship factor came to mind.

And what would there version be?

Does anyone know if you can put a Lakemaster chip in a dash mount GPS. I have a Garmin dash mount and it would be nice and handy if I could do that. Thanks

I was at the Scheels icefest in Nov and looked at them. Show special 579.00 with a free 2nd battery and 50.00 scheels gift card. I asked them how they compare to a Ion. He said, I wont run them so I dont know. Now I have two Ion's and think there great. I went over to the Ion booth and asked them how does your compare to a Jiffy. He said same battery, we turn slower and differnt color. Then said And I like it, its all personal choice. I going to stick with the Ions

Im sure my house is like all of your house's They could do a commerical with all there products in are house's. Yes made in the USA is great.