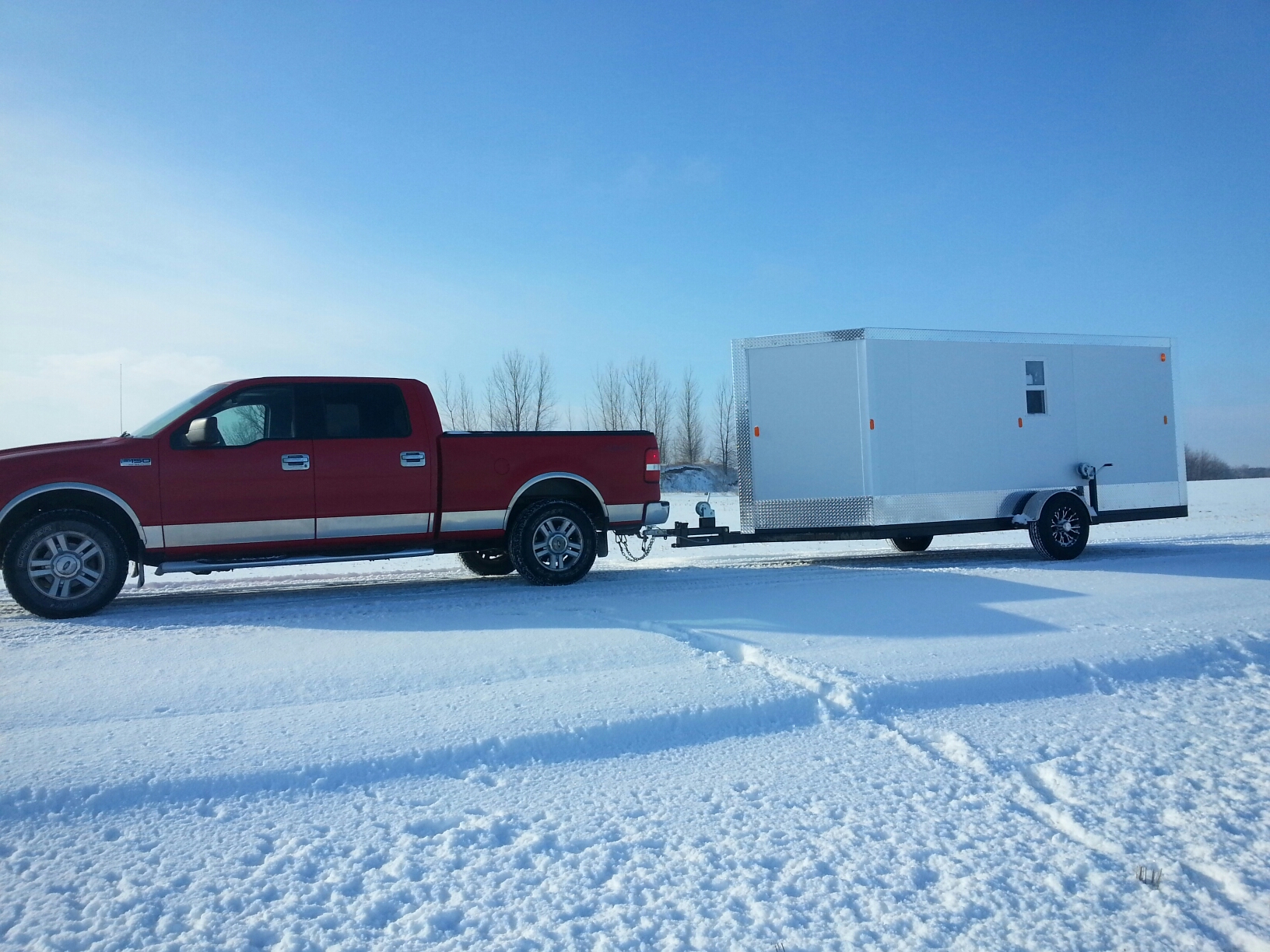 1lessdog
we are 'the leading edge' I Share on HSO
Content Count

87

Joined

Last visited
About 1lessdog
Rank

IceLeaders.com Family

Birthday

09/17/1958
Recent Profile Visitors
The recent visitors block is disabled and is not being shown to other users.
The grooves I think helps alot. Keeps 75% of the grease on the shaft. But I think the anti seize grease helps more. I had a frame about 6 yrs ago that the pivot point seized up and I had a hell of a time getting them apart. It took me about 6 hr to get them both a part. I used my 4 wheeler and winch and hooked a nylon sling to the pivot point and tightened the winch real tight and then would move the axle system up and down. You only let that happen once. Trust me

When I get my frames one of the first things I do is pull the Pivot tube off the stub shaft and grind grooves in the stub shafts and apply Permatex Anti seize grease. Its not effected by temperature and every other yr when I take them apart, the grease isnt just a black solid mess. I just clean with a little bit of brake cleaner and reapply the anti seize.

1lessdog replied to Moon Lake Refuge's topic in Ice Fishing

This is what I use to pull mine on thinner ice 6 - 13 inchs. After that its a pickup. I also have tracks for it. There is no need. I have had many 4 wheelers and nothing compares to the 6x6.

1lessdog replied to walleyewarrior_23's topic in Ice Fishing

When its cold like this I don't there is anything you can do about the holes freezing shut. All the skirting and snow banking I believe won't stop the freezing up of holes.

Why not just watch movies and do away with the Direct TV.

I have been using the Genz Worm jig for close to 15 yrs now and has always produced fish. Everything from Walleyes to Perch to Crappies to Northerns. Everything seems to bite them. What is your go to jig ?

A few yrs ago I was on Lida fishing all alone. I had to do a #2 so out comes the garbage bag and 5 gallon bucket. As I'm doing my business comes a knock on the door. He identified himself and I say I'm going to the bathroom. A few mins latter I open the door. He said you went kidding were you. I said no I wasnt, he said thats a first for him to hear that one. The house was kind of stinky. I still smile when I think about it.

I was driving around checking out lakes. There must be 200 houses on Lida and most being pulled with pickups. Only like 12 - 14 inchs of ice.

Take a small fan and blow it at the door. I have a little PC fan that is 6 x 6 x 2 and it works great.

I run 5/16 on my new house. My old house had 1/8 form Miltona and lasted just over a yr. I was out the sec time of the yr and seen one was fraying a little when setting it down on the ice. After I had it on the ice I told my son we have to change cables when we get home. Fast forward 6 hrs and crank one side up about half ways and go over to the other side and start cranking it up and the cable broke. If my head would have been in the way it would have been bad news. I had enough cable to restring it. And get it up and locked in. I went to the other side and started to crank and that one popped to. I went and got the floor jack out of the back of the pickup and jacked it up and locked it in place. I put 1/4 on when I got home that night. I take my house in the car wash everytime I come home when its wet it. If you have bad cables change them. For me it every two yrs and thats with 5/16 inch

I never block mine. If you have a cable system make sure you have a couple of cables made up if you should break one. I change my cables every two yrs . I had both cables break on the same day. I wont ever let that happen again.

I do the samething, leave it up and cut the holes. Keep the mess on the ice and your floor dry.

1lessdog replied to Ufatz's topic in Hunting

I live right outside of Moorhead and see a few in the winter now days. About 8 yrs ago they moved into the shelterbelt around our place and there were about 50. It was nice to see them. I grew up in Harvey N.D. and we would go out and shoot a pickup box full in a night. That 250 - 300 jacks in a night. We would sell them to a guy that had a Mink and Fox ranch and get 50 cents each. The amount of jacks we would see in a night would be in the 1000's. I think all the chemicals and pesticides are killing them off. We dont see the Meadow Larks like we use to either.

Im from N.D. and guided for many yrs from Sask to Texas. And why anyone would go to N.D and hunt waterfowl is a mystery to me. Canada has the best waterfowl hunting I have ever seen. You only have to drive 500 miles more. There is no posted land and no hunters. Its a waterfowlers dream. We averaged 69 Geese a day for 15 yrs plus I never counted the Ducks in the decoys in the mornings. In the evening clients would sit at a slough and shoot ducks while I found a field to hunt geese in the next morning. Pretty good chance you would shoot more bird in one day than in N.D. in a week.

1lessdog replied to Moon Lake Refuge's topic in Ice Fishing

The guy that built my frame talked me out of them. He said the first yr or two there great. Then problems start, he said I would be coming back to him and putting a winch system back on. He said he has taken the electric off lots of frames and put them back to winch system. With the two speed winch and a cordless drill it is so easy.