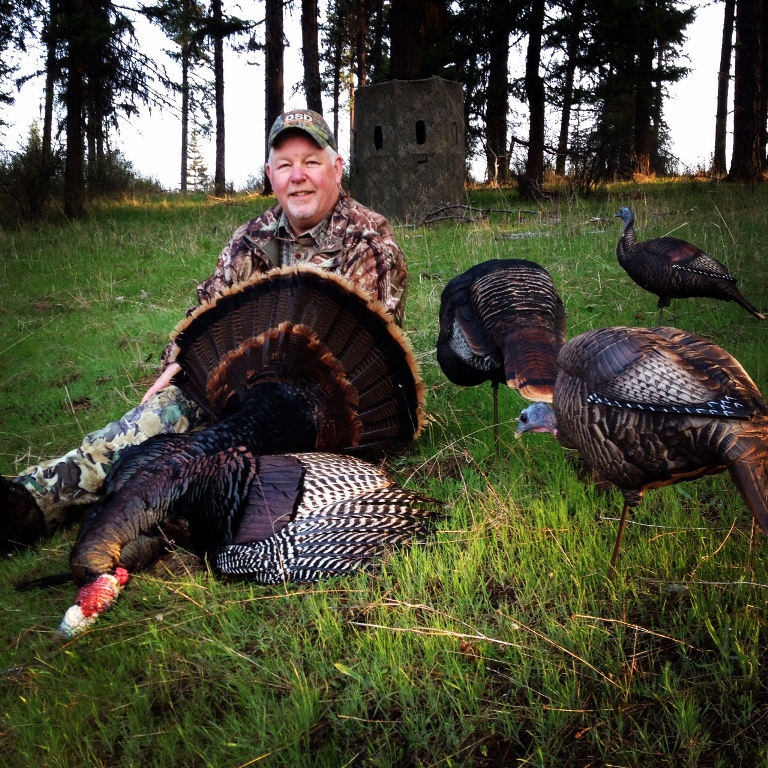 Wallydog
we are 'the leading edge' HSO Builders
Content Count

468

Joined

Last visited
About Wallydog

Rank

HSO Pro Staff - Idaho

Birthday

02/21/1957
Profile Information
Name:
Location:
Interests:

feathers, hair, scales and anything else surrounding outdoor critters

Gender:
Thanks Borch and all the other participants. Always fun.

I finished my self proclaimed NW Slam (ID, OR, WA) Friday with nice NE Washington bird. It's been a very good season thus far. Still have 2 youth hunters to put on birds in SW ID. A few images for your viewing.

My encapsulation and photos are in the submission thread. Good luck to everyone else!

Story goes like this. 1. Uncle from St Cloud arrives Boise 10 pm Thursday night 4/12. 2. Drive to Orofino Friday to hunt private property I've hunted since 1990 and scout some. 3. Deploy blind Saturday and scout (re-confirm bird presence) some more. 4. Arrive parking spot in fairly hard rain at 0430. 5. First gobble on roost at 0530. 6. 0550 flydown, Hens jakes and longbeards responding but not interested in my game......yet. 7. Very vocal birds for 45 minutes. 8. Silence for 1 hour 9. Distant gooble heard and responds to me at 0800 9a. Rain stops. 10. 0820 Gobbles getting closer, sounds like 3-5 birds. 11. Nuther gobble from different vector is heard. 12. Several longbeards now visible at 150 yards responding to everything I throw at them. 13. Gobble at ~60 yards from gobbler from different vector. 14. Mayhem, cacophony, loudmouths. 15. Single gobbler appears and is walking right into a bad spot for him. 16. He dies at 0900 at 25 yards by my uncles shot. 17. I attempt to hold and call back other toms but they won't have it. 18. 1500 Decide to pull up and move blind 1/4 mile. 19. Set up by 1545. 20. 1600 Make one series of calls.................sit down. 21. 1605 Peek out the slot of my turkey silo blind and see nice silent longbeard walking to decoys 15 yards distant. 22. Mayhem 23. Poke uncle Don and look in direct he came from to see another very alert longbeard that slips out of sight. 24. Said long beard meets his waterloo by my shot at 1610 and can't call the alert bird back...... 25. 1700 see three hens and a strutter slipping into brush at 100 yards. 26. 1715 Said strutter appears silent but strutting in all his glory at 35 yds. 27. Don smokes this one as well! This is the first year we can harvest 2 bearded turkeys in the same day and Don is very likely one of the first Non-Residents to do so legally. 28. Radar shows big rain coming. 29. Let's pack up before we get drenched again. 30. Monday was a total washout, rain, rain, rain and snow. We didn't hunt but did a farm/crop tour of my son in laws operation in Lewiston. 31. Radar/forecast indicated nothing but moisture for Tuesday. So We Drove Home to Boise. 32. Don flew home this morning. All in all we had a tremendous trip seeing loads of game and visiting with landowners.

On the board in ID! And a nice Rio I took across the river in Oregon this morning

Where have all the participants gone? I'll be heading to central ID for the opener this Friday with my uncle from St Cloud. We ought to whack some birds. Then I have OR and WA and several youth hunters thrown in for excitement. Good luck teammates!

I prefer and shoot 1 3/4 oz of 6's which will whack anything out to 50-60 yards

A great effort by all involved. Thank you Borch and my fellow team mates.

The birds were vocal and cooperative in the Clearwater region this weekend. My uncle from St Cloud came to hunt turkeys for the first time and got several great shows. All 3 longbeards weighed in between 16.5 and 17.5#. Telling light weights based on a tougher than normal winter. Now to Oregon this weekend and South Dakota next Wednesday.

Got her done In Idaho. Details later.

Youth opener was a challenge this year due to flooding along the Boise River system. Roosts are flooded, fields are flooded, traditional hunting spots inaccessible, displaced birds........But I told Nic that patience kills turkeys....and after a blind move at 1 pm the opportunity availed itself at 4:45 and he made a great shot after a great show of 2 longbeads kicking the dickens out of my strutter. They 2 walked for 100 + yards thru 3-6" of water in a flooded winter wheat field to lay that whooping on the strutter. I reckon these river birds have morphed into swamp turkey with all the water around!

I wish I could use my crossbow in ID,OR or WA.....but cannot. Guess I should have read the regs before pulling the trigger on a nice setup! I start this weekend in SW ID mentoring a youth hunter along the flooding Boise River then off to the Clearwater country 4/13 with my uncle (from St Cloud) who has never hunted turkeys. Then another youth weekend prior to my departure for the Black Hills for some pure marked Merriams 4/26. Good luck to everyone and be safe. WD

Thanks again Borch, this is always good long distance fun.

As a team we might be at the top of the leader board...........!