Fall Walleye Locations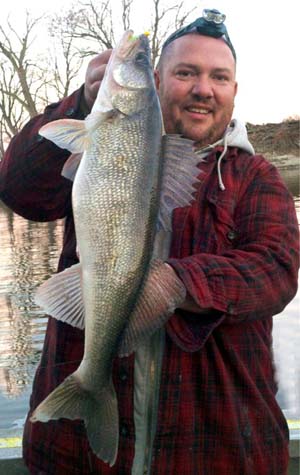 If you are a MN Sportsman or heck a sportsman anywhere in the upper Midwest, its a given to look at the calendar and say to yourself, "Man I love this time of year", and rightly so, as for most folks that is likely because the long anticipated hunting season is upon us, but for those of us that don't get in the field much, it is also hunting season just a different kind.
This hunting season involves a boat, a fishing rod, and a hunger for BIG river walleyes. How big? Well lets just say that anything under 8bs is considered average. As the days get shorter and the water gets cooler, these big river walleyes really start feeding aggressively and the sight of blaze orange in the field is usually a good sign that it is time start looking for them.
The pattern is really pretty easy in these med to large rivers. Wait for the water temp to hit 50 or lower, find an area that has a steep rocky break and if you can find some depth and flow nearby you have put yourself in a good spot to find some of these big girls. This pattern is not limited to a single river or two, it is repeated throughout the region.
Fall Walleye Locations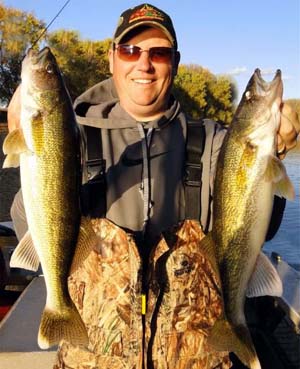 Some of the more popular places to find these big walleyes are the Mississippi, the MN, the St Louis, the Red and the St Croix. Because of special regs on walleyes, Pool 2 of the Miss is especially popular to finding big fish.
A popular tactic there is to target wingdams and like I mentioned above windams are steep and rocky with a nice hole behind them. A perfect match. We don't have wingdams here on the MN where I usually fish, but we do have plenty of other natural and manmade rocky structures to target and every year as the river changes new favorite spots are born. Generally though the pattern is closely followed from spot to spot and repeated each year.
Now that we've located a fishy looking area, how do we find the fish? There are several popular ways to do this, but my personal favorite is with a jig head and plastic body. 95% of the time you can find a 1/4 oz jig tipped with 4″ ringworm tied to the end of my line.
There are times when a heavier or lighter jig is needed and when live bait might be preferred, but most all fish I catch this time of year are on that setup I mentioned which sure makes toting gear easy. A small box of jigs and a bag of plastics and I'm ready to go, and without going into a drawn out sales pitch, I'll just say that my favorite rig is a Med or Med/L 6'6 spinning rod, Hi Vis braid such as Fireline Fuse in 4/10lb with a 1/4oz Northland jig head and a BfishN 4″ Chartreuse ringworm.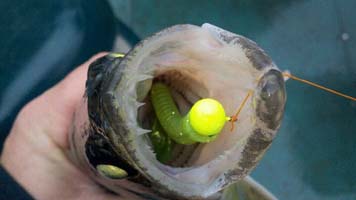 Another couple of things that are crucial to catching fish on the river, is keeping contact with the bottom and pitching these jigs at the right angle to the structure you are fishing. What is the right angle? I have no idea, but its something you just learn by being out there all the time. I can do it, I just can't really describe it, and I know it does make a big difference because almost every trip out, one guy will out fish all the rest and that is because he happens to be in the boat pitching his jig at the right angle for the particular spot we are fishing.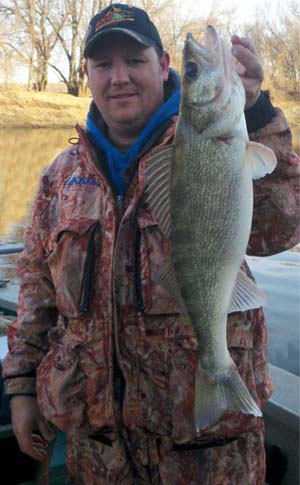 Often we will move to another spot and someone else in the boat will have the hot stick, and I really think that is directly related to his casting position and not just dumb luck. We often refer to it as the "angle of the dangle". Bottom line is that if you are not catching fish at a spot you know there should be fish, move the boat to a different angle and work your way around it. You might find that you will only catch fish from one position. We find that happens quite regularly.
My personal opinion is that a good starting point is to cast slightly upstream and cross current to the bank. Slowly lift your jig and let it settle in the current until you feel bottom and repeat until you've worked the bait back to the boat. Most of the time, the fish will take the jig on the fall or just before it hits the bottom. If there happens to be some sort of current seam or break you are fishing, pay close attention to when your jig intersects that spot. It is a likely ambush area.
Some days though the fish won't take the bait until it has sat on the bottom for a second or two. Let the fish tell you what they want. For that reason it is nice to have multiple fishermen in the boat. Not everyone fishes a jig the same way and if someone else is catching all the fish, just copy what they are doing. One day it might be a sharp snap of the jig, other days it might be a steady retrieve and on some days you actually have to drag the jig on the bottom.
This is what makes jig fishing so fun though, they are so versatile and you can do all kinds of things with them until the fish tell you what they want. Color sometimes makes a difference, but my experience has shown that it is more related to jig technique and casting angle then some crazy color combination. I'm not saying it doesn't matter, but at least here on the MN, I think color is overrated. Put a color on you have confidence in and start fishing.
This kind of late fall river fishing is not really geared for the weekend warrior sunscreen and visor type of fisherman. We often find ourselves in elements that most folks will call us crazy. Rain and snow are expected and its not a complete season until you have had to use the boat as an ice breaker to either get to your spots or to get back home once or twice. Add in the factor of the crazy MN and its flood or drought conditions and it makes every trip a real adventure.
This year in particular, if you don't have a jet boat or know someone who does, you just aren't getting to most places on the river. Don't rule out shore fishing though, this is a great time to put on the hiking boots and go for a walk. Most of the places we fish CAN be accessed by shore, it is just a matter of finding the right access point and walking a bit. Google maps are your best friend here. Remember what I said about steep rocky areas? Most bridges have that kind of structure and are a popular place to find fish this time of year.
I might be a catfisherman at heart, but when the big kitties go to sleep for the winter, I always have one thing on my mind and that is the opportunity to boat a walleye of a lifetime and I know every sharp tap of the rod might mean exactly that. Speaking of which, there is not many things that beat the the feeling of a big walleye inhaling a plastic using light braided line and a sensitive rod. Its magical and something I look forward to every Fall.
For those of you able to take advantage of this great time of year, please remember to practice selective harvest, these ultra big walleyes are vulnerable similar to how they are in the early spring. Hold em up, put on a big smile, snap a pic and watch them swim away. If you want a wall hanger, please consider a replica. The next generation of "hunters" will thank us.
Good luck!
This article is by HSO Pro Staff Darren Troseth knows trophy fall walleye locations and has shared hints on where to find them with you here.