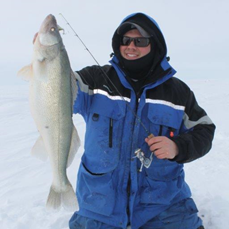 Annual Winnipeg Walleye Trip
Well it's been seven years now and it's still as much fun as it was the first time. Lake Winnipeg, a wondrous walleye factory in it's own right, ranks right up there as heavyweight champ in my book. The walleye are heavy. That's for sure.
This year involved a few Lake Winnipeg virgins, if you will, who had no idea what to expect, only the stories we had excitedly told them. It's one of those things that just has to be experienced. Words, or even video, just can't tell it like it is.
One has to experience the snowmobile ride alone, from the South Beach Casino, to wherever we end up on the big water. This time it was only about a seven mile ride. Now, if you were trail riding, it would be no big deal. However, when the lake is rough, with "open water wave-like" snow drifts the whole way, it's a totally different story.
One the day prior our Winnipeg Walleye trip, Canadians Tom and Mike Batiuk went ahead and checked out the lake conditions, hoping to find the mother lode of big walleye.
They found fish, which usually isn't too hard to do, but the big ones were hiding. Mike did manage bragging rights for the day with a 22″er, just average, if not small, by Lake Winnipeg standards. Lake travel was another thing.
Heading across the lake, in serious whiteout conditions, Tom lead the way, while Mike followed  behind and it's lucky he was, as Tom's Clam shelter became unhitched from his snowmobile. Turning around and heading back, Tom could barely make out the trail, as visibility was no better than 300′. He eventually found Mike and the wayward fishing shelter waiting for him. 
It was at this point that Tom noticed his auger "power head" missing, which was positioned inside a burlap sack and bungied down in the back of his Bearcat. The trail was quickly drifting over and hard to see so Batiuk zoomed in his gps unit to the max and headed back in search of it.
With no "snow trail" to see at all, Batiuk stayed on the gps course and found the sack but the problem was that's all he found, just a sack. Forging ahead, he found the power head, almost covered up by the driving snow. After that, it was all good, for that day anyway.
It ended up that most all of us experienced some transport problems of one thing or another.
On one of the days, we reached the fishing spot to find that Chad Peterson's camera equipment was missing, valued at more than $2,000. It had somehow bounced out of a covered, secured sled and was found by Batiuk, who ran back nearly six miles in search of it. You talk about lucky.
Another "bounce out", again belonging to Peterson, was his hard case rod locker that was missing from my sled upon reaching the promised walleye land. Another run back produced a case full of expensive DH Custom rods and reels. Again, lucky.
Rough conditions had several fishing parties losing their shelters, which were in tow behind either snowmobiles or Ranger track vehicles. One unhooking happened right next to us while we were reeling in big fish. They returned 30 minutes later and picked it up.
I did it myself, three times. I blame this on an inferior hitch and pin on my part and can tell you that it will be changed for this coming weekend, when Big Winnie perch will be the target.
On one of my "un-hitchings", Blake Liend, who was following fairly close behind me in whiteout conditions, ran into my shelter with his snowmobile.
The next day, Liend had a tie rod end break on his machine. Was it from hitting my sled? Or maybe it was just the curse of big Lake Winnipeg? Strange things can happen here but we've already made reservations for next year. It's just that good.
As far as fishing success, we did "okay" in my book, catching approximately 150 walleye on a wide variety of baits (Live Target, Psycho Shad, Rippin' Shad, Darter, Chubby Darter, Slender Spoon, etc.). It all depended on what you were using when a fish happened by.
Blake and I each had extremely fat 27″ fish which looked to be at least 9 pounds or better. Blake's looked like a "10″. Yes, they're that fat. 
Newcomer Brett McComas, Brainerd, took home big fish honors with his walleye that was pushing 29″ and bottomed out an accurate electronic scale at 11 pounds. I wonder how much further the scale would have went. It was a real tubby and was released back into the waters of Lake Winnipeg.
I can't wait until next year! (written by Greg Clusiau, HSM Outdoors)